NEU: We integrate an original Netatmo Indoor module into the filter circuit of your pool. The pool temperature is thus measured directly in the tube or hose. The flow sensor can be used for the complete pipe or hose diameters. Simply select the desired version.
An external powerful antenna is mounted on the flow temperature sensor system in order to be able to establish the best possible connection with the Netatmo base station (can be ordered separately). An antenna extension cable can be ordered as an option in order to be able to assemble the antenna at a cheaper site.
The power supply with 4x AAA batteries (batteries are supplied) is located in a splash-proof case. This can either be clipped to the T-piece of the flow sensor or mounted separately nearby.
As an option, we equip the system with a more powerful power supply (AA batteries instead of AAA).
With our Netatmo modification, your pool can be seamlessly integrated into your smart Netatmo weather station or smart home. Amazon Alexa can also now provide Information about the current Water Temperature of Your Swimming pool.
"Alexa, ask Netatmo: What's the Temperature in the Pool?"
Our Netatmo Modifications for Temperature measurements in Pools and Ponds have been available for Three years. This new Version contains all our accumulated Know-how. Look forward to a reliable and smart WLan pool thermometer for your Netatmo weather station.
Advantages of this smart Pool Thermometer
Battery-powered Module. As a Result, no power Outlet is necessary on Site. We also equip Your Pool Thermometer with an optional Power Supply via AA Batteries. As a Result, the Thermometer can be operated for an Extremely long time without changing Batteries.
Query the Water Temperature via Smartphone or Tablet via WLan. This requires Netatmo'S Base station. This can be purchased separately in our Shop.
Integration Into the Netatmo Weather Station.
The Water Temperature can also be published on your own Website if Desired. For this purpose, there are Plugins from WordPress. This Feature is interesting for public Institutions who want to provide Their Visitors with information about the current Water Temperature on Site.
Integration Into your own Home Automation.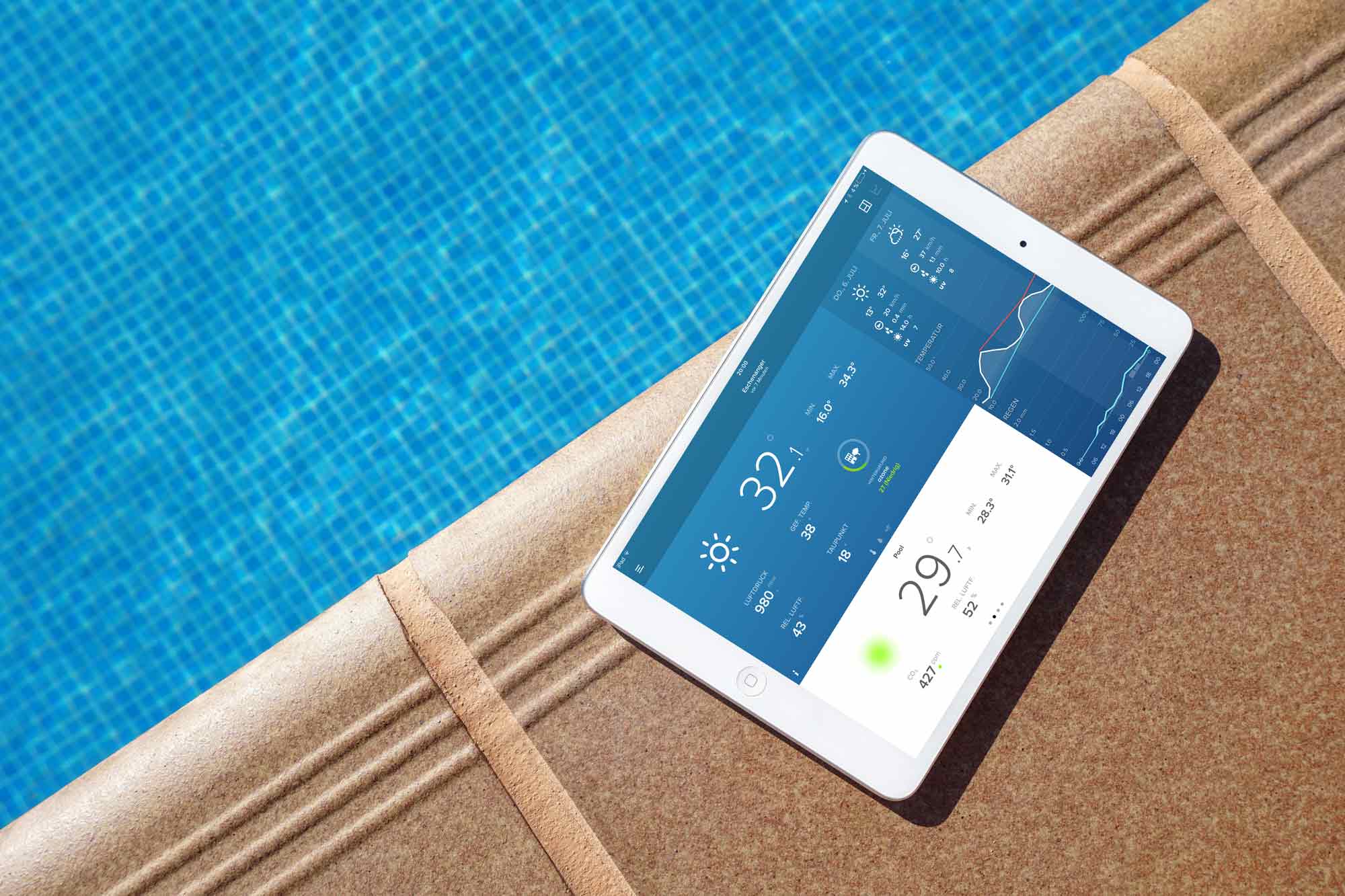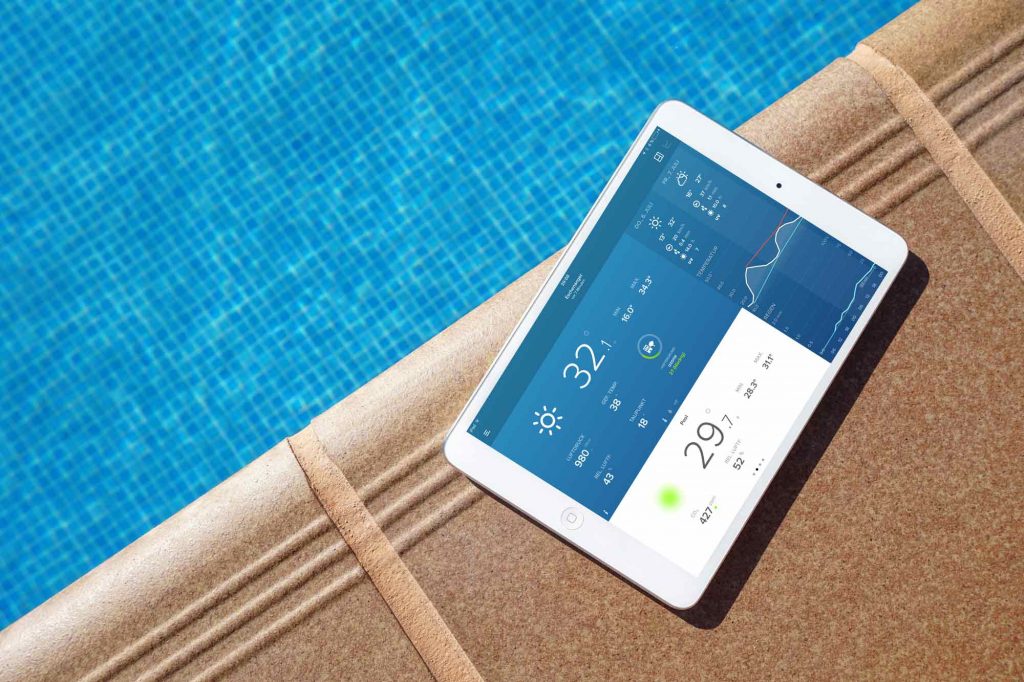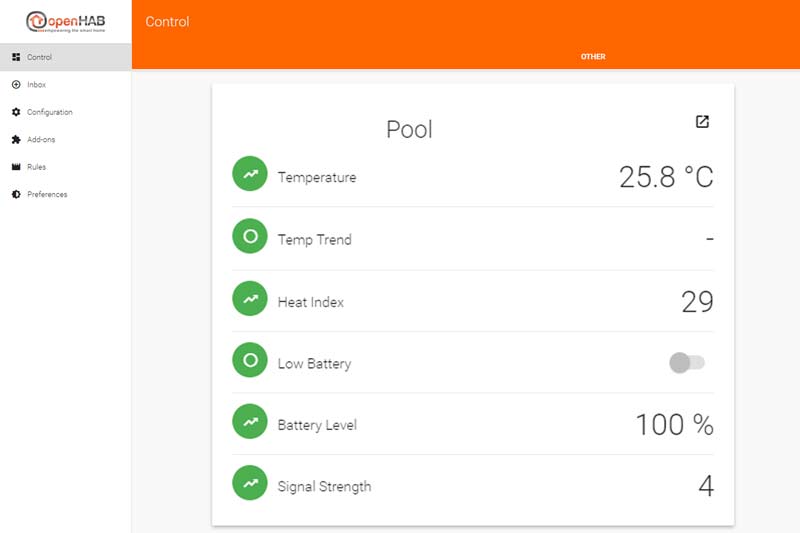 WLan Pool Thermometer for Home Control
This WIFI Thermometer can be integrated into its Home automation in a variety of Ways. For the open source program OpenHab 2 there are already ready "bindings" for Netatmo. As our wlan pool thermometer is a modification of the Netatmo thermometer you can also integrate the temperature in your control. For example, a pool heater can be activated if required. Netatmo modules can also be integrated in Homematic and other systems. Also the integration into the own website is possible thanks to ready plugins for for example WordPress or Joomla.
Delivery Of the WIFI Poolthermometer
Pool pipe @ smart flow temperature sensor with integrated and original Netatmo Indoor module.
Batteries: You can Choose between the Standard Variant With 4 x AAA Batteries or the Variant With a much longer battery Capacity with 4 X AA Batteries.
Manual
Prerequisites for The operation of the WLan Pool Thermometer
You must own the Netatmo Base Station to operate this Pool Thermometer. The Base Station is not Part of this Offer.
To use Amazon Alexa with this Product, You must have a suitable Device (E.g. Amazon Echo Dot or Amazon Echo).
Antenna Range: We equip This Pool Thermometer with an external and powerful Rod Antenna. In our Test, the Base Station was placed in a closed Room (Brick Construction) behind a locked window with direct Visual Contact To the Thermometer. The original Netatmo Inner module was able to establish stable Connections to the Base Station up to 25 m. With the rod Antenna Used, we achieved a stable Connection of up to 30 m (4 out of 5 Bars). Tests over 30m were not carried out. Keep in mind that any additional Wall and source Of Interference (E.g. Routers, Metal Objects, etc.) reduce the Range. We therefore recommend that you test a Netatmo Inner module (if any) at the desired Site (must not get wet) before purchasing. If the Range is not sufficient, You can connect an optional antenna Cable to the Pool Thermometer and assemble the Antenna in a cheaper Location. Of course, even an even more powerful Directional Antenna (available in a short time here) can also increase the Range.